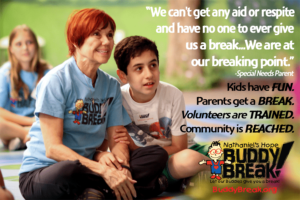 2023 Buddy Break Schedule:
Join us from
If you have any questions or would like any additional information please feel free to contact Raiford Road Church (Kim Lucas).
RRC Office: (904) 259-6015
Kim Lucas: (904) 316-2357
E-mail: office@raifordroadchurch.org
What is Buddy Break?
Buddy Break is a FREE Parents' Day Out/respite program where kids with all types of special needs (VIP kids) have FUN while their parents get a BREAK. At Buddy Break, VIP kids and their siblings make new friends, play games, do crafts, hear children's stories, enjoy music, and more! Meanwhile, parents get a break from their ongoing care-giving responsibilities, usually for three hours on a Saturday morning.
Why Buddy Break?
Giving families of kids with special needs a break
One out of 10 kids under the age of 14 has some kind of special need. You probably know someone with a VIP kid!
The weight and stress of raising a child with special needs can be overwhelming.
Mental Health Treatment of stress is 2-3x higher for parents of VIP kids versus parents of typical kids.
The divorce rate is high (up to 80%) for couples with a child with special needs.
Families may experience extreme isolation, depression, loneliness, and fatigue.
Opportunities to get a break are rare, yet desperately needed to survive.
Get A Break
Do you have a VIP and need a break? If so, you've come to the right place.
VIPs include kids with any physical, cognitive, medical, or hidden disability, chronic or life-threatening illness, or those who are medically fragile. This program is for VIP kids ages 2 to 16, as well as siblings K4 to fifth grade. Some Buddy Break locations have expanded their programs to serve a wider age range based on the need in their communities.
Volunteer As A Buddy
Get started:
Contact that location's coordinator and schedule a time to go Buddy Training 101 to be a Buddy!
Register as a Volunteer Buddy, contact Kim Lucas.